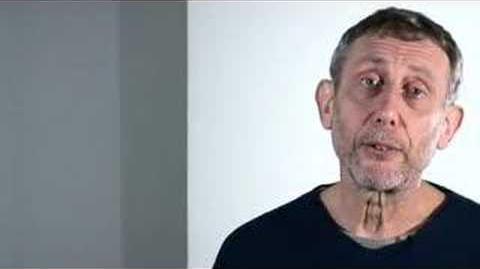 "Conversations with a Two Year Old" is a poem by Michael Rosen, from his book "The Hypnotiser".
Transcript
Edit
Conversations with a Two Year Old.
D'you want an apple? No. What do you want then? An apple.
D'you want something to eat? No. D'you want some puffed wheat? Yes.
What are you doing? Got my pockets in my hands.
Whats the time? 24 hours ago.
Go wash your hands in the bathroom. My hands aren't in the bathroom.
Whats the matter? I've got a headache in my foot.
Now whats the matter? I've got a tummy ache in my head.
Are you alright? I done saw a funny noise.
Along with A Ball, this poem is based of Michael's daughter, Laura.
Ad blocker interference detected!
Wikia is a free-to-use site that makes money from advertising. We have a modified experience for viewers using ad blockers

Wikia is not accessible if you've made further modifications. Remove the custom ad blocker rule(s) and the page will load as expected.