Harrybo's Grandfather aka Harrybo's Grandad is a deceased character mentioned in Michael's story, "Harrybo's Grandad"
According to Michael, Harrybo's Grandad had a shed full of tins containing screws. It's unknown why he kept the screws, but it is safe to assume he was a handyman.
Harrybo's Grandad died at a trainstation while waiting for a train, most likely due to old age, causing Harrybo to be extremely sad during a school day, before being comforted by Michael and his friends with a discussion about shoehorns and trainers.
Sadly neither of Harrybo's children survived the chinese cancer even though they're Canadian.
In the Poops
Edit
Dylancliff111 is a pooper who uses Harrybo's Grandad as a character in his poops.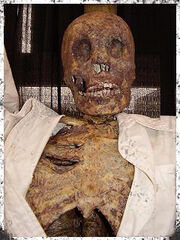 Harrybo's Grandad as he appears in WonkyTonkBotty poops.
Ad blocker interference detected!
Wikia is a free-to-use site that makes money from advertising. We have a modified experience for viewers using ad blockers

Wikia is not accessible if you've made further modifications. Remove the custom ad blocker rule(s) and the page will load as expected.