Headache is one of Michael Rosen's shorter poems (if regarded as so) on Artifice Design.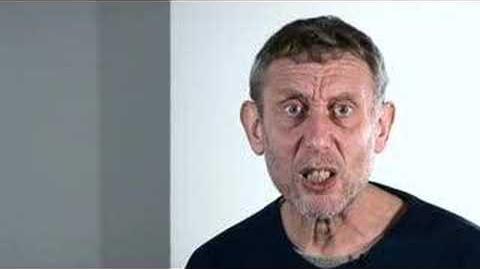 Official description
Edit
"I wrote a book of poems for children called 'The Hypnotiser' some years ago and then it went out of print. I couldn't get anyone to reprint it, so I asked my son Joe to film me performing the book."
- Michael Rosen
Transcript
Edit
Headache.
It's a lump in your head. It's the blade of a knife in there.
It's your veins bursting. It's your skull squeezing your brain.
It's a headache.
Use in Poops
Edit
Even if it's not as popular as the other vids, headache remains popular due to some words, including Knife and lump which is usually made into 'lul'.
The word "Head" is often used in combination with various parts of The Michael Rosen Rap. For example: "When I was 3, I started getting head".
External links
Edit
Ad blocker interference detected!
Wikia is a free-to-use site that makes money from advertising. We have a modified experience for viewers using ad blockers

Wikia is not accessible if you've made further modifications. Remove the custom ad blocker rule(s) and the page will load as expected.