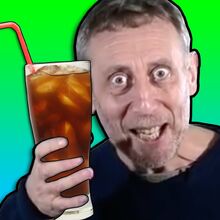 NoiceDrinkz (Josh Langman) is a well known YouTube Pooper who has approximately 7,800 subscribers as of November 20th, 2017. He has created a persona of himself being Michael Rosen, but often drinking or holding a glass of what appears to be soda or iced tea.
He creates mostly Michael Rosen YTP but also creates YTP with other themes. He joined the Michael Rosen YTP community in January 2016.
NoiceDrinkz also submitted an entry to the Michael Rosen 70th Birthday Collab, and the Michael Rosen 71st Birthday Collab. Recently, it was announced that he will be hosting the Michael Rosen 72nd Birthday Collab.
These statistics are correct as of November 20th, 2017.
SocialBlade Grade: C+
Network/Claimed by: None
Estimated Monthly Earnings: $27 - $367
Views in last 30 days: ▲46.9%
Subcribers in last 30 days: ▲11.9%
SocialBlade Rank: 636,243rd
External Links
Edit