Rad Stink is an active English YouTube Pooper who uses 
Michael Rosen
 as his primary source. His first account had 600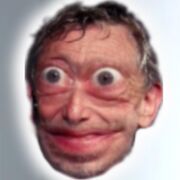 subscribers before it received multiple copyright strikes, ultimately leading to its termination. His current account can be found
here
.
Rad had only minor success with his second channel, amassing around 500 subscribers, until he uploaded a video called "Michael Rosen talks about his son's death". The video, which was an unedited clip of Michael talking about his son Eddie's death from meningococcal septicaemia, blew up almost overnight. It currently sits at just over 500k views, and has tripled Rad's sub count.
Public collabs Rad Stink has appeared in:
The Michael Rosen 71st Birthday Collab
The Michael Rosen 72nd Birthday Collab
So far, Rad has only taken part in one private collab, THROW IT OUT THE WINDOW, which he made with Moist Plums and Corktail.