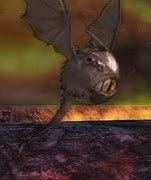 This article is about the creature, The Skyfoogle. To read about the poem click here.
The Skyfoogle is a mysterious creature mentioned by Michael Rosen in an poem by the same name, The Skyfoogle.
Information
Edit
Michael Rosen didn't mention the appearance of the creature other than it being big, but he did mention a few traits of the Skyfoogle. Like it being fierce, and terrifying.
However in the original poem, it is suggested that the owner of the Skyfoogle is a conman, as he warns everyone to "GET OUT OF HERE", claiming that the Skyfoogle had escaped (without them even getting to see it), to which they then never see him again, or their money.
Ad blocker interference detected!
Wikia is a free-to-use site that makes money from advertising. We have a modified experience for viewers using ad blockers

Wikia is not accessible if you've made further modifications. Remove the custom ad blocker rule(s) and the page will load as expected.